YipTel Headsets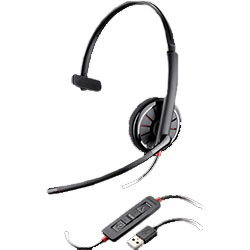 YipTel
YipTel Desk-Phone Headsets
Plantronics Supraplus Wideband
Contact us for Pricing!
Plantronics Mirage H41
Contact us for Pricing!
YipTel Wireless Headsets
Plantronics CS500 Series
Contact us for Pricing!
Click here to jump to more pricing!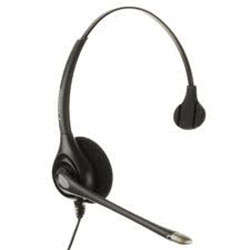 Desk-Phone Headsets:
Plantronics Supraplus Wideband
Quality Customer Communications
Wideband audio for more natural sound and clearer conversations.
Fully compatible with standard band environments.
Premium audio assures quality customer communications.
Ergonomic Design for All Day Comfort
Over-the-head, all-day comfortable design for intensive use.
Proven robustness at millions of agent workstations.
Single and dual earpiece options meet varying needs and preferences.
Quick Disconnect cord lets users walk away from their phones without removing headset.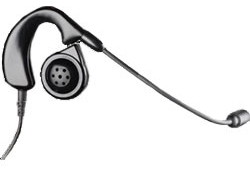 Plantronics Mirage H41
All-Day Comfort and Convenience
Symmetrical, sculpted design allows headset to be worn over either ear
Ultra-lightweight design
Voice tube or noise-canceling microphone options
Quick Disconnect feature lets you walk away from your phone while wearing your headset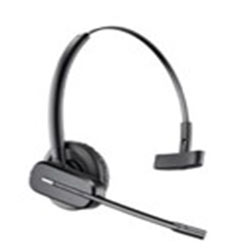 Wireless Headsets:
Plantronics CS500 Series
Plantronics legendary CS family is setting a new wireless standard for desk phone communication with the CS500™ Series. The system features the lightest DECT™ headset on the market*, a streamlined design and improved performance all with the same reliability for hands-free productivity that has made the CS family a best-seller for nearly a decade.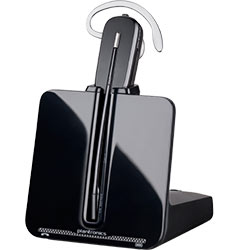 Superior Call Management
With one-touch call answer/end, vol+/-, and mute, manage calls from up to 350 feet from the charging base. The CS500 system also enables you to conference in up to three additional headsets for easier collaboration and guest headsets can subscribe to a base by simply docking the headset. Use with Electronic Hook Switch Cable or Handset Lifter to remotely answer/end calls.
Out Standing Audio Quality
Voice-dedicated DECT™ technology provides better audio and eliminates interference from Wi-Fi networks while advanced wideband audio provides high definition voice quality. Your choice of narrow or wideband professional grade audio quality -- choose narrowband to extend talk time or wideband mode to enable clearer conversations. An extended boom and noise-canceling microphone filter out background noise, so listeners can hear conversations clearly and enhanced Digital Signal Processing (DSP) provides more natural sound, delivering clear audio the way it's intended to be heard.
USB Softphone Headsets: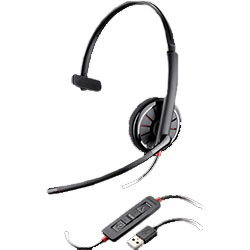 Plantronics Blackwire 300 Series
Enter UC with a headset designed (and priced) to lead the way. With professional features, industry-leading functionality, and Plantronics-renowned reliability, Blackwire 300 Series USB headsets are ideal for those new to PC telephony as well as organizations looking for a solution that's easy to roll out, manage, and upgrade.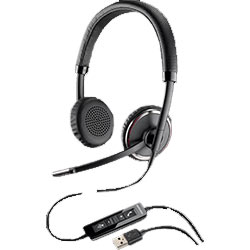 Plantronics Blackwire 500 Series
The Blackwire® 500 Series corded USB headsets with Smart Sensor technology intuitively help you manage PC calls. Simply put the headset on to answer a call and you'll hear every word thanks to its premium wideband audio quality. And with ultra-soft leatherette ear cushions and a lightweight headband, you'll enjoy all-day comfort and a secure fit. When work takes you on-the-go, simply fold the ear cushions flat, and store in the included carrying case. Durable and portable, the Blackwire® 500 Series offers all-day comfort for juggling PC calls and multi-media – providing corded reliability that's ready when you are.
USB Bluetooth Desk-Phone Headsets:
Plantronics Voyager Pro UC
New Smart Sensor technology for a seamless and intuitive user experience
Automatically answers calls simply by placing on your ear.
Automatically transfers calls between mobile phone and headset.
Eliminates accidental dialing by locking call button when headset is not worn.
Outstanding Audio Quality
Dual-mic AudioIQ2 DSP for noise cancellation, delivering clear voice quality to you and your listener.
Advanced WindSmart® technology provides three layers of wind protection.
PC Wideband delivers heightened speech clarity, providing the best possible PC audio quality.
Integrated A2DP lets you listen to streaming media, including your favorite songs, podcasts, turn-by-turn navigation and more.
SNOM USB Bluetooth Headset
The snom HS BT can be paired with a snom 760 or 720 via the snom USB BT and up to seven other Bluetooth-compatible devices (mobile phone/cell phone, notebook, etc.).
Compatible with Bluetooth V2.1+EDR
Dual Microphone noise canceling technology
Multi-Point Device Pairing
Pairing with up to 8 Bluetooth devices
Soft gel ear tips in 3 sizes with detachable ear hook
Up to 5 hours talk time
Up to 150 Hours Standby time
Up to 10m Range
YipTel
YipTel Desk-Phone Headsets
YipTel Wireless Headsets
YipTel USB Softphone Headsets
YipTel USB Bluetooth Desk-Phone Headsets